We've had the privilege of recording the audio version of Elaine Cust's book titled, On His Own Two Feet.  The book is a touching biography of Herold Granger, an Albertan man whose life took a sudden detour at the age of sixteen when he awoke one morning unable to move or speak.  On His Own Two Feet chronicles Herold's determined approach to the numerous obstacles polio presented him, his remarkable achievements as a young man and later, business owner, husband and father.
Recently I had the opportunity to interview  Elaine:
Part 1:
D: Why did you decide to do an audio-book?
E: That's a really good question because making the audio-book was really important to me…Harold is 80 years old now and many of the people who would want to read about him are round about his age and many of these people don't find it easy with the text version -whether because of difficulty reading…or because they find it difficult to keep their mind focussed on the written words…
The second part is that in my family…we have a hereditary eye disease called RP (Retinitis Pigmentosa) and so blindness is pretty common. My dad was blind and since the time I was about 10 years old, I remember listening to stories on LP records from the CNIB…I have lots of memories with my brother, sister and I washing and drying dishes in the kitchen listening to stories…Audio format has been a part of my life for a long time. I wanted to make that audio format available to people… 
D: Who designed the cover for your book?
E: The cover was designed by Jacqui Wong…I sent a text to her and asked her to do a design for the cover and I think she did an outstanding job. The cover shows a gravel or dirt country road with trees on each side (that's the background) then it has a pair of boots…in the foreground. The title "On His Own Two Feet" is done in a old-style typewriter font…We used the same cover for the audio-recording cover.
D: What have you learned from bringing this writing project to completion?
E: I have learned that sometimes not knowing what you're getting into is a real blessing. I was really excited about meeting with Harold and interviewing him and talking with him and Audrey about what his life was like…In truth, that's really as far as I could see when I started. I had no idea that I was really writing a book. I was just doing something that really appealed to me… I just following it step by step by step and never really looked too far ahead…
I think that if I'd been aware of how much was involved in writing a book and getting it right up to publication I might have given up. I might have been overwhelmed.
So I guess… what I have learned is that sometimes it is really important to just focus on the next step… To not let yourself worry about where it's all going to end up… when you're ready to take the next step, whatever you need to handle the next step, will be there for you.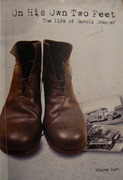 That worked out wonderfully. Harold and Audrey were there to be interviewed when I wanted to do that. I worked with a writing group of very good writing friends who were there through each of my chapters as I wrote them and offered suggestions as how to revise and edit them. My family was very supportive even though they weren't really sure where I was going either. My older brother helped me with his memories. He had a clearer picture of some things than I did. When I was ready to publish, Jacqui was there to assist me… and to kind of guide me through the steps that were necessary for getting the book printed.
My friend Dawn Curran offered to do the reading. She has experience in reading for the CNIB and for Voiceprint.
So I went looking on the net and found Phoneticsound. I phoned and talked to Jeff. He was so helpful. He answered all of my questions. He made suggestions. He talked with me about the process, which I really didn't know or understand at that point… It turned out that Phoneticsound was only a few blocks from where my friend who did the reading lived.
Jeff also suggested MEHco Inc. with Susan Munro as a place to get the CDs done. I didn't even realize that recording was one step and production was another step… I really learned to trust the process. To do what I felt was important; what I felt was necessary…
D: What inspired you to write this book?
E: I was always very interested in people who have had to cope with very difficult things in their lives. Sometimes when you meet someone you just think that they are an ordinary person. That they have had a life much the same as you did; they were born, they grew up, they had the love of their life, they had kids… and you have no idea of what they've really had to go through.
Harold and Audrey are very down-to-earth people… they are very open and friendly and loving and approach life with the attitude that they will give their best and the best is out there for them. So, not knowing anything about their history, you would think that things have been pretty easy for this couple. You wouldn't know what Harold has had to go through and what Audrey has gone through, step by step, beside him. They really have had an extraordinary life.
It's those kinds of people that I admire so very much… I wanted, for myself, to trace how what happens in someone's life really determines who they are. I read somewhere that when you experience great sorrow, it makes you capable of great joy… when you experience huge challenges, it makes you more accepting of people…
2 Responses to "Elaine Cust: Creating An Audiobook"
Leave a Reply