It was a great pleasure recording Lisa Nicole Grace's album.  It's already been released, just this past winter in fact.  I recorded the drums at Two Bodies of Water, and everything else here at Phoneticsound.  We had a little more space at Two Bodies, as the live room here was being used for other projects.  Setup was quick and easy, with myself (Jeff) and James Seabrook both getting things setup. Jered came to me after the album was done as he wanted to get a short run vinyl pressing of the album.  I did a fresh master of the tracks, which the cutting engineer preferred (over the CD master), and got the vinyl back!
One of the needs of vinyl mastering requires sensitivity to the high frequency content, as well as the nature of the lowest bass frequencies.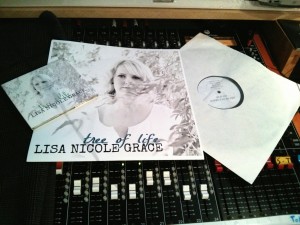 I had the privilege not only recording Lisa's album, but mixing it with Jered Evangelos who also played drums & percussion for the whole album.  Jered just happens to be Lisa's husband, and as a team they shared the vision for the recording and feel of it.    As we just did a short run of the vinyl, it's not publicly available.  Of course you can grab it on iTunes here:  https://itunes.apple.com/ca/artist/lisa-nicole-grace/id319023514
One of my favorite tunes on the album was Chameleon (featuring steel guitar by the legend _______), take a listen:
The vinyl cover makes the CD art seem like a toy compared to a piece of art!   This was Lisa's sophomore album, and I hope a third is on it's way to the studio in the not-too-distant-future!
More of Lisa on the usual channels:
http://www.lisanicolegrace.com
https://www.facebook.com/pages/Lisa-Nicole-Grace/10258941309
http://www.twitter.com/lisanicolegrace
And finally, here are some photos of a few of the sessions.  Enjoy!